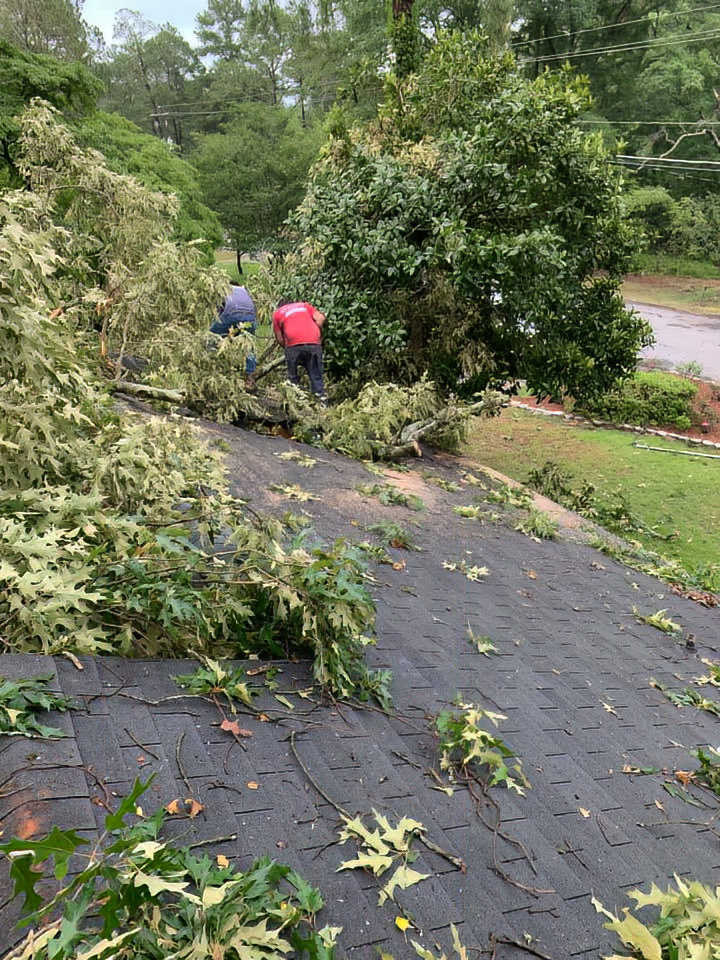 Storm damage to a home can range from minor to severe depending on the intensity of the storm. It can include roof or shingle damage, broken windows, siding damage, and even structural damage. Failure to repair storm damage can lead to larger issues in the future. Moisture entering the home through damaged areas can cause mold, mildew and rotting of wood. Damaged roofs can also cause leaks and water damage to the interior of the home. In addition, damage left unattended can decrease the value of the home and make it more difficult to sell if the homeowner decides to do so. Repairs to storm damage should be done promptly to prevent further damage and protect the investment made in the home.
RESIDENTIAL & COMMERCIAL STORM DAMAGE REPAIR
MIDDLE GEORGIA ROOFING & CONSTRUCTION
Middle Georgia Roofing & Construction is a trusted name in the industry when it comes to storm damage repairs on homes and commercial buildings. The company has been serving the Middle Georgia region with the highest quality craftsmanship and exceptional customer service for years.

Hail, wind, and other natural disasters can leave your property vulnerable and in need of prompt repairs. The team at Middle Georgia Roofing & Construction understands the importance of fast and efficient storm damage repairs. Whether you need roof repairs, gutter replacement, siding repairs, or window replacements, their experts have got you covered.

One of the biggest challenges that homeowners and business owners face after a storm is navigating the insurance claims process. Middle Georgia Roofing & Construction can help take the stress out of this process by working directly with your insurance company to ensure that your claim is processed quickly and accurately.

Our team of experts utilizes the latest techniques and equipment to perform comprehensive storm damage repairs. With years of experience in the industry, they have the knowledge and expertise to identify and restore all types of storm damage to your property.

In addition to storm damage repairs, Middle Georgia Roofing & Construction offers a wide range of services including new roof installations, roof replacements, and general home improvement services. With our commitment to using only high-quality materials and our attention to detail, you can trust that your property is in good hands.

If you're in need of storm damage repairs for your home or commercial building, contact Middle Georgia Roofing & Construction today. With our expertise, exceptional customer service, and commitment to quality craftsmanship, you won't find a better option for your storm damage repair needs.
Warner Robins, Macon, Bonaire, Perry, Cochran, Hawkinsville, Millegeville, Eatonton, Montezuma