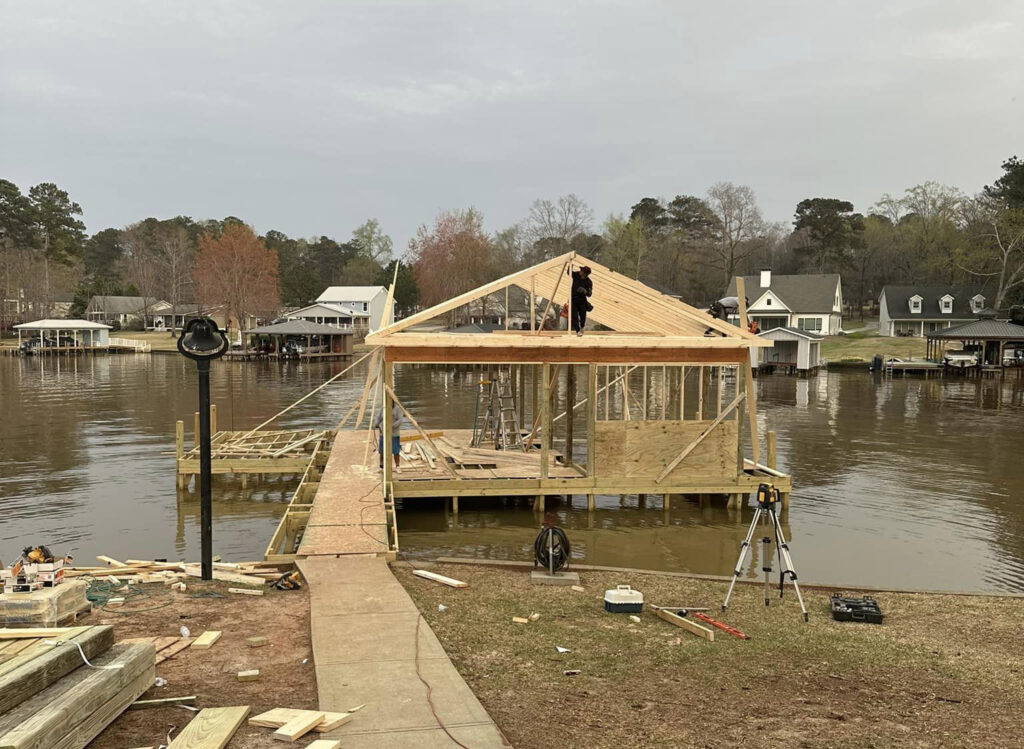 Boat houses are structures built to protect boats from the elements while they are not in use. They are typically built along waterfront properties and can vary in design depending on the type and size of boat they are meant to house. Construction of boat houses typically involves digging a foundation, installing piers or pilings, framing the structure with wood or metal, and covering it with roofing materials. Boat houses may also include features such as a hoist or lift to help move boats in and out of the water, as well as storage space for boating equipment. It is important to follow local building codes and obtain necessary permits when constructing a boat house, as regulations can vary depending on the location and size of the structure.
BOAT HOUSES, DOCKS, AND OUTDOOR LIVING SPACES
WE SERVICE THE ENTIRE LAKE SINCLAIR AREA
Middle Georgia Roofing is a leading company that specializes in designing and constructing premium quality boat houses and docks at Lake Sinclair, GA. These structures are known for their beauty, durability, and strength, and they are custom-made to meet the specific needs and preferences of clients. The company has a team of experts who use the latest technology to provide exceptional services and ensure that every project is completed on time. They also use only the finest materials in the industry to build these structures, ensuring their exceptional quality and longevity. By choosing Middle Georgia Roofing for your boat house or dock construction, you can rest easy knowing that you're in good hands. They will work closely with you at every step of the process to ensure that your vision is brought to life and that you are completely satisfied. Contact Middle Georgia Roofing today to experience the best in boat house and dock construction.
Warner Robins, Macon, Bonaire, Perry, Cochran, Hawkinsville, Millegeville, Eatonton, Montezuma